You are getting some good value in the market and it comes to branding of your small or large business. Just go for  a branded email address as part of your online brand presence by using Business Email.
When you first started working in projects as a freelancer, you usually go along with using your personal email address. Your first few tasks for those customers with whom you already had a working relationship, and you likely made it clear to them that this was something you were doing on the side, so it didn't matter that you corresponded with them using the same email account that you use to keep in touch with friends circle.
Moving Forward
But now days things are really different. You are a existing small or large business owner. You're advertising your goods and services using a highly branded website ( like www.genxwhosting.com ) – with a branded domain name, no less – as a hub for your brand messaging to your employee or client or market. You may even have a physical location for your business that also having the same brand name – and regardless, you're hopefully at least engaging in offline marketing, always using your brand name as a key identifier. Your email address must to be a key piece in this branding puzzle, completing the picture.
So stop using yourname@gmail.com or yourname@yahoo.com for your business correspondence. Your brand deserves better. It's time to move on to yourname@yourbrandname.com – here's why.
First Impressions Matter's
You are making lots of efforts to make sure that you are make the right impression on market or client when someone load your homepage as their first exposure to your brand. But not everyone comes to your site before they start emailing with you because it is human tendency that they do not believe unknown brand or person .
And when your email is sent from your domain name, it helps to convey the idea that you're already established, professional and take your long-term branding seriously, which helps to build trust to everyone.
And the email address itself a way of branding – even the name before the "@" – is also very important. Don't use something useless like river@yourbrandname.com, or inappropriately, informal like skfundo@yourbrandname.com. Go with some combination of variations on your first name, last name, or initials.
Connected Digital World
Your website is already operating as your company's primary digital branding , using business email adds weightage to it.
You correspond with peoples might benefit from being remembered that your website is online – and being remembered where to find it. So, the easiest way for your satisfied customers to refer friends to you is to simply forward a recent email from you, so that your contact information appears in the friend's inbox. In these cases, the new customer might have a harder time finding your website if your email address is on a completely unrelated domain. For example : your brand name is Gen X Web Hosting but your email address is John@gmail.com . So, It is difficult to find your brand.
The more you can improve the way people associate your messages with your site, the better off your brand is. You can even drive this association home further by investing in a strong email signature that includes your logo and links to your site and your brand's social channels.
Comfortable Compartmentalization
It isn't easy to be all about the business all the time, and many web workers find that their productivity increases when they take regular breaks from activities that are strictly work-related throughout the day, so we're not saying that you're better off ignoring your personal life altogether while you're on the clock.
But it can be extremely helpful to keep distractions to a minimum, enabling you to keep your work and personal lives in tidy distinct compartments i.e. two different accounts. When your recreational emails arrive in an altogether different inbox, this is easy. You can focus on the business at hand as necessary, and when you're ready to take a look at that ppt file of Photoshopped images that your cousin sent you this morning, it'll be there for you.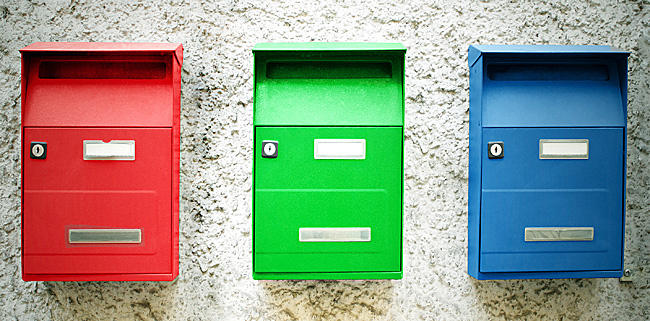 Business email  also allow you to work with multiple addresses, as yourname@yourbrandname.com is not necessarily the best address to use for all aspects – especially for publishing on web pages as a contact address. So you can effectively compartmentalize your work day even further by setting up inboxes like billing@yourbrandname.com, sales@yourbrandname.com, hr@yourbrandname.com, support@yourbrandname.com,  info@yourbrandname.com .
Transitioning to Your Branded Email i.e. Business Email
If you are currently using something like yourbrandname@gmail.com (and shame on you if you are), then you should probably set that inbox to auto-forward all messages to your new address i.e. yourname@yourbrandname.com . This way, older contacts who don't quickly update their records will still be able to reach you.
If you are worried about leaving behind your favorite email client? Your love for Apple's iOS Mail app, Outlook's integrations with your laptop's OS, Yahoo Mail's ever-evolving web interface or Gmail's "conversations" layout need not be at odds with what's best for your business. Nowadays, almost all the big players in the email space allow you to send and receive emails from any domain. So no major sacrifice there for branding.
Here at Gen X Web Hosting , we are big fans of the Google Apps service, which allows us to use the awesomeness of Gmail as our email client. We are such big fans of this product that it's the one we use to offer branded email addresses to our Premium customers. The Apps version of Gmail comes with uptime guarantees, around-the-clock support and 25 GB of inbox storage, it's ad-free and mobile-friendly, and it comes out of the box integrating perfectly with Google's awesome Calendar, Drive and Docs products under the same accounts.
Click here if you want to get started with branded email solutions for your domain.